If you are near the San Francisco bay area in Northern California, or are planning to travel to this area, you can arrange golf lessons for your small group of friends, family, co-workers, etc., to work with me in person on any aspect of your games or to learn the entire game from the very beginning. Continue below for more information. For "public" group golf lessons see my clinics page.
If you are not from the Northern California area and are not planning to travel here anytime soon get my golf instruction books, a 4-volume series of paperbacks covering the entire game in detail.
---
About the Instructor

PGA Class A Professional
Over 30 years of golf instruction experience
Master's Degree (Biomechanics/Exercise Physiology)
2-time finalist National Long Driving Championship
Former West Coast Long Drive Champion
Charter member YONEX Long Drive Exhibition Team
Author of the 4-volume

"Your Golf"

book series
Author of (ACE Cable Award nominee) Golf Instruction Videos
Featured golf professional on many other websites with tips and articles on various aspects of the game
---
Student Comments
"That hour spent with you yesterday was the most productive hour of my entire golf history."
Buddy I.
San Francisco, CA
"Thank you. Frank and I enjoyed the golf lesson very much. You are a good teacher and very, very knowledgeable. I'm glad we had this opportunity to meet you."
Diana H.
Pleasanton, CA
"I have had lessons from four different instructors over the last 20 years or so and you are definitely the most effective teacher. I think it is because you have the knack of giving out the right balance of mechanics and logic."
Thomas S.
Antioch, CA
"Diane and I have been giving out your name and singing your praises for your good work with us. Lately I've been reaching greens from 220-240 yards out with confidence. That's without practicing or even 'trying' to hit it hard. So now the shots I see on TV have been demystified. Wow!"
Mitch G.
San Carlos, CA
---
Location
Lessons are conducted at Boundary Oak Golf Course in Walnut Creek, California (about 45 minutes east of San Francisco). See the map just below for an overview of the general area. Continue below for more details on group golf lessons.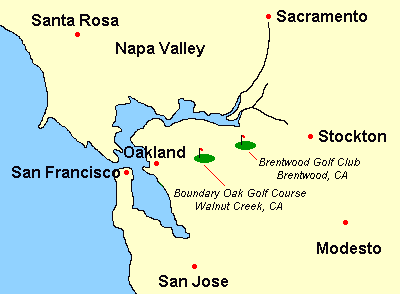 ---
Single Group Lessons and Packages