Group presentations can be arranged for any number of participants, focusing on any aspect of the game, and for any length of time -- at your location or one of my locations. Since each situation is unique golf instruction clinics are scheduled and priced on an individual basis.
Clinics, seminars, workshops or large group lessons can consist of mostly lecture and demonstration on any area of the game, or the focus can be more hands-on -- working with all participants on their techniques.
Contact me to inquire about a presentation for your group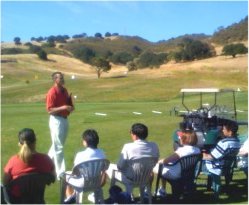 ---
Upcoming Golf Clinics
I hold pre-scheduled clinics on various aspects of the game a few times a year. See below for upcoming clinics.
Coming Up - Saturday March 29th
with PGA Professional, Mark Blakemore
About the Instructor | Sign up below
When:
Saturday March 29, 2014
Where:

Golf Course



Walnut Creek, CA 94598
Time:
4:00 PM (approximate ending time 6:00 PM

*

)
Cost:
$40 per person

(includes range balls)
Details
Group size - limited to first 8 sign ups
Each participant receives individual instruction as well as group instruction
Discussion includes the golf swing with fairway woods/metals and hybrids
Learn how to make solid contact, control direction, and get more distance
Fix your slice or hook, stop topping or hitting it fat, correct errors
Question and answer throughout
We'll have some fun and learn how to be effective with the metals and hybrids!
Golfers of any skill level (except brand new beginners *) are welcome to attend. Each participant will have their swing assessed, learn where the problems are and get the details of how to improve and how to practice. Instruction will be both specific (with each individual) and general (with the entire group) and cover all the most important aspects of doing well with fairway woods and hybrids.
* Ending time may vary depending on number of participants.
* I do other clinics and group lessons that are more appropriate for brand new golfers with no experience. Stay tuned for those.
---
Sign Up
Please fill-in and send the form below to reserve your spot in the clinic. I will get back to you by e-mail (usually within 24 hours -- or after a weekend).
I do not require pre-payment for the clinics or classes, but since I am limiting the number of participants please be sure you can attend before reserving a spot, and check your email (and your junk/spam folder) and be sure to reply to confirm that you received my emails and to reconfirm that you will be there. Thanks.
* indicates required field