If you are near the San Francisco bay area in Northern California, or are planning to travel to this area, you can arrange private lessons to work with me in person on any aspect of your game. Continue below for more information.
If you are not from the Northern California area and are not planning to travel here anytime soon get my golf instruction books, a 4-volume series of paperbacks covering the entire game in detail.
---
About the Instructor

PGA Class A Professional
Over 30 years of golf instruction experience
Master's Degree (Biomechanics/Exercise Physiology)
2-time finalist National Long Driving Championship
Former West Coast Long Drive Champion
Charter member YONEX Long Drive Exhibition Team
Author of the 4-volume

"Your Golf"

book series
Author of (ACE Cable Award nominee) Golf Instruction Videos
Featured golf professional on many other websites with tips and articles on various aspects of the game
---
Student Comments
"Just a brief thank you note for your help. I played a round yesterday and haven't enjoyed a day on the golf course so much in quite a long time. I hit nine greens in regulation. Those that I missed, for the most part, were near-misses. I only out and out missed two shots all day, and those were because I lost focus... Thanks to your efforts and patience, I am feeling much better about my game."
Carl E.
Brentwood, CA
"You may not believe it, but that was just about the best lesson I ever had. I think I absorbed and understood more than ever before."
Steve S.
Danville, CA
"Thanks for the lessons. I have played a couple of times after going to the range nightly. I am getting longer distances and my shots, when contacted properly, are going straight."
Janie B.
Oakland, CA
"Thanks, I enjoyed the session very much. I found your instruction very helpful, and when I can work out time to do another session, I'll do it with you. In my business, an acid-test question is 'would you recommend to a friend?' My answer is yes."
Dave M.
Pinole, CA
---
Location
Lessons are conducted in the east bay area of San Francisco in Northern California at Boundary Oak Golf Course in Walnut Creek, California (about 45 minutes east of San Francisco) or The Golf Club at Brentwood in Brentwood, California (about an hour east of San Francisco). See the map just below for an overview of the general area. Continue below for more details on private and group lessons.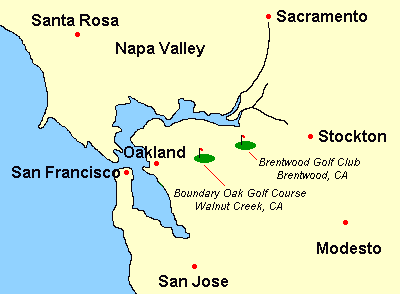 ---
Single Lessons and Packages
Private individual lessons are available by appointment, for (male or female) golfers of any age (kids to seniors) and any skill level (absolute beginners to advanced and professional players), on any aspect(s) of the game. Lessons can also be taken in a series of 6, which includes a discount.* A series of 6 lessons for a beginning student can include basic grounding in the fundamentals of all major areas of the game. For a more advanced student we can focus on the areas of your choice or on the whole game.
Private Lesson Rates

| | | |
| --- | --- | --- |
| | One lesson | Series of 6* |
| Half hour | $50 | n/a |
| One hour | $75 | $400 |
* Details apply for a series of lessons:
The series must be paid for in advance (at the conclusion of the first or second lesson)
The series of 6 must be completed within 120 days (4 months)
---
Playing Lessons
Playing lessons are available by appointment, and are best scheduled for weekdays. I recommend that you have had at least one lesson with me at the practice facilities before requesting a playing lesson. 9 hole and 18 hole playing lessons are available. On-course instruction is also available as part of my Private Golf School sessions.
Playing Lesson Rates
| | |
| --- | --- |
| 9 holes | 18 holes |
| $180 | $350 |
*
Green fees or cart fees may be extra
---
Request an Appointment
Please fill-in and send the form with your preferred day/times. I will get back to you either by e-mail or phone (usually within 24 hours).