If you are near the Walnut Creek-Concord area in Northern California, or are planning to travel to this area, you can participate in my various group golf instruction classes throughout the year. The classes are open to the public and cover a wide variety of topics touching on all areas of the game. Continue below for more information and to find out about upcoming classes.
You can also arrange to have a "Private Class" for your corporate, club, business or association group. Please to provide and receive details about this type of golf class for your group.
If you are not from the Northern California area and are not planning to travel here anytime soon get my golf instruction books, a 4-volume series of paperbacks covering the entire game in detail.
---
About the Instructor

PGA Class A Professional
Over 30 years of golf instruction experience
Master's Degree (Biomechanics/Exercise Physiology)
2-time finalist National Long Driving Championship
Former West Coast Long Drive Champion
Charter member YONEX Long Drive Exhibition Team
Author of the 4-volume

"Your Golf"

book series
Author of (ACE Cable Award nominee) Golf Instruction Videos
Featured golf professional on many other websites with tips and articles on various aspects of the game
---
Student Comments
"Great clinic, Mark -- very worthwhile. Your teaching style and examples were excellent."
Pete S.
Walnut Creek, CA
"I have had lessons from four different instructors over the last 20 years or so and you are definitely the most effective teacher. I think it is because you have the knack of giving out the right balance of mechanics and logic."
Thomas S.
Antioch, CA
"That hour spent with you yesterday was the most productive hour of my entire golf history."
Buddy I.
San Francisco, CA
"Thank you. Frank and I enjoyed the golf lesson very much. You are a good teacher and very, very knowledgeable. I'm glad we had this opportunity to meet you."
Diana H.
Pleasanton, CA
"The clinic was EXCELLENT!"
Guy C.
Fremont, CA
---
Location
Most of my classes are conducted at Boundary Oak Golf Course in Walnut Creek, California (about 45 minutes east of San Francisco) or The Golf Club at Brentwood in Brentwood, California (about an hour east of San Francisco). See the map just below for an overview of the general area. Occasionally I present classes at other facilities. Continue below for more details on my golf instruction classes.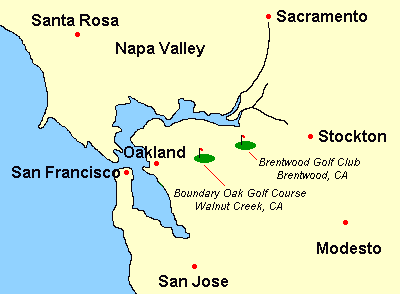 ---
Who Can Attend?
Golf classes are open to the public -- male or female golfers of any age (usually teen to seniors, but sometimes there are junior clinics) and any skill level (there are appropriate classes for all golfers, from absolutely brand new beginners to advanced players).
---
Rates
Rates vary from class to class, depending on duration, but a typical 5-session class is usually between $150 and $200 per student.
---
Upcoming Classes
To see the classes that are coming up soon on the calendar and to sign up to attend see

Upcoming Classes - Schedule and Sign Up.